Welcome to our delicious recipe for Buttermilk Pancakes, a classic breakfast dish that is fluffy, tangy, and easy to make at home
Table of Contents
Characteristics
Light and fluffy
Leaps and bounds better than boxed pancake mix
Perfectly sweet
Super easy
Made with basic, everyday ingredients
Just begging to be drenched in maple syrup
Sure to become your new favorite!
Extra Fluffy Buttermilk Pancakes
To make these pancakes you'll need all-purpose flour, granulated sugar, baking soda, baking powder, salt, nutmeg, eggs, buttermilk, and vanilla extract. You'll also need maple syrup, for serving. The batter comes together in just minutes. It will be on the thicker side. And once it hits the hot griddle, it will puff up and morph into fat, fluffy pancakes. If you do not have nutmeg on hand, you can leave it out, I just love the subtle flavor it adds to these pancakes. Other than that, I do not recommend messing with this recipe.
Buttermilk Pancakes are a beloved breakfast staple in many households, and for good reason. These pancakes are light, fluffy, and have a slightly tangy flavor that sets them apart from regular pancakes. The secret to their texture and taste lies in the buttermilk, which is a fermented dairy product that adds acidity and tenderness to the batter. Buttermilk Pancakes are typically made with simple ingredients such as flour, sugar, baking powder, baking soda, salt, eggs, butter or oil, and of course buttermilk. The batter is mixed until just combined and then cooked on a griddle or skillet until golden brown on both sides.
One of the great things about Buttermilk Pancakes is their versatility. They can be served plain with butter and syrup for a classic breakfast experience or dressed up with various toppings such as fresh fruit, whipped cream, chocolate chips, or nuts. Some people even like to add spices like cinnamon or nutmeg to the batter for extra flavor. Buttermilk Pancakes can also be made ahead of time and frozen for later use. Simply stack them with parchment paper in between each pancake and store in an airtight container in the freezer. When ready to eat, just pop them in the toaster or microwave for a quick and easy breakfast option.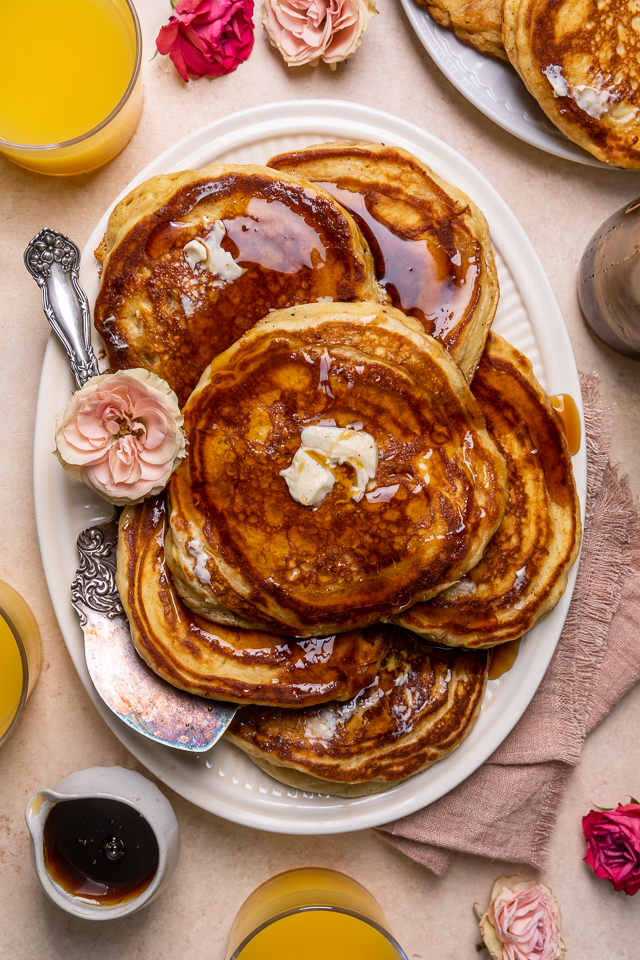 Tips
If you cannot find buttermilk where you live, or you just really want to make these pancakes right NOW and don't have any in the fridge, I've got you! Simply follow the "recipe" below for an easy buttermilk substitute.
To make a buttermilk substitute you'll need 1 scant cup of milk (scant meaning just a little less than a whole cup) and 1 tablespoon of lemon juice or white vinegar.
You'll measure the 1 scant cup of milk and then stir in the tablespoon of lemon juice or vinegar. Then simply allow the mixture to stand at room temperature for 5.
At this point you're ready to go! The milk should be slightly thickened, with tiny curdled bits floating around. It won't be as thick as regular buttermilk, but it will make a fine substitution for this recipe.
How to Freeze

Simply place fully cooled pancakes between layers of waxed paper, then place them in a freezer-safe plastic bag, and pop them in the freezer! They will keep in the freezer for 2 months!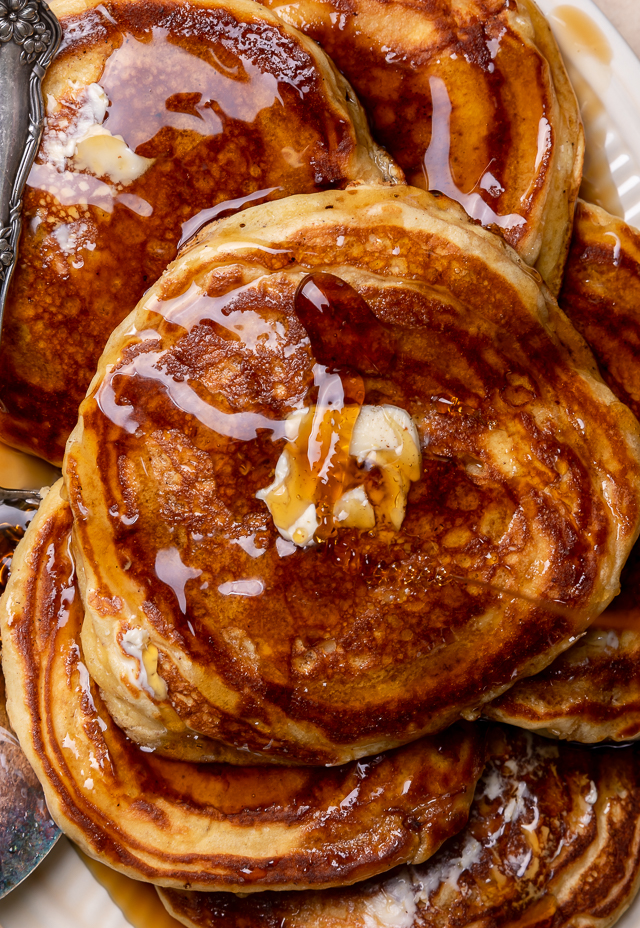 Recipe
Buttermilk Pancakes
Favorite Recipe for Fluffy Homemade Buttermilk Pancakes
Prep Time: 10 minutes  Cook Time: 15 minutes 
Total Time: 25 minutes
Servings:

14

L

arge Pancakes
Ingredients
2

 

and 1/2 cups all-purpose flour (300 grams)

1/4

 

cup

 

granulated sugar (50 grams)

1

 

teaspoon

 

baking soda

2

 

teaspoons

 

baking powder

1/2

 

teaspoon

 

salt

1/4

 

teaspoon

 

ground nutmeg

2

 

large eggs, at room temperature

2

 

cups

 

buttermilk (454 grams)

2

 

teaspoons

 

pure vanilla extract

Maple syrup and butter (for serving)
Directions
In a large bowl add the flour, sugar, baking soda, baking powder, salt, and nutmeg; whisk well to combine.
In a separate bowl add the eggs and lightly beat them with a whisk. Add in the buttermilk and vanilla and beat until well combined. Stir the buttermilk mixture into the dry ingredients, stirring just until everything is combined.
Pour batter by 1/3 cupfuls onto a buttered hot pan or griddle, adding only a few at a time so that they do not blend together.
Cook for about 2 minutes before flipping them over, or until small bubbles form on top. Cook on the second side until golden brown, about 1-2 minutes. Repeat with all pancake batter.
Serve pancakes warm, with syrup. See notes for freezing options.
Notes
To freeze, place cooled pancakes between layers of waxed paper, then place them in a freezer-safe plastic bag, squeezing out any excess air before sealing the bag and placing it in the freezer. Pancakes will keep in the freezer for 2 months. To reheat, heat your oven to 375 degrees (F). Place the pancakes in a single layer on a large baking pan; cover with tinfoil and heat in a preheated oven for 6-8 minutes, or until warm. You may also microwave 3-4 pancakes at a time for about 40 seconds, or until heated through.